User Instructions
User Registration
1. Please visit: https://www.ehsmonitor.com/login.
This will direct you to Enhesa's User Account Login page.
You can also login at https://www.enhesa.com by clicking "Login" in the top right corner.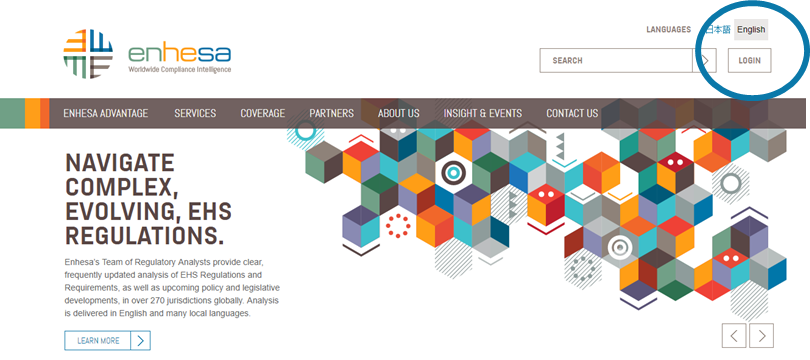 2.Please click "Create a User Account".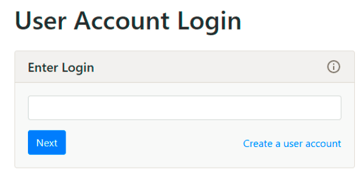 Username

Please use Letters and numbers.

Symbols you can use are: . _ @

Don't use Chinese, Korean and other local language's character sets to avoid systematic error.

Using your email address as a username is not recommended for security reasons.

If somebody has used your requested username, please create a new one. Our system does not accept duplicates of the username.

Name

Please use English, or your local language

Company Name

Please use English alphabet or that of your local language.

Title

English, or your local language. This needs to be below 60 letters.

(If Japanese and Chinese, below 30 letters)

Business E-mail

Password

Password must contain at least 8 characters, include both lowercase and uppercase characters, a symbol and number.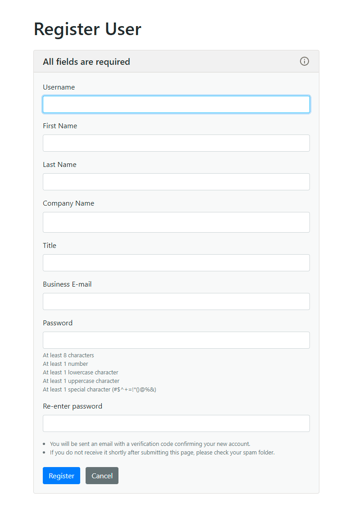 3. Once you have registered, a notification will be sent to your email. Click the hyperlink in the email to verify your account.
If you do not get the email within a few minutes, please check your spam/junk folder, and then contact our Client Services Team at services@enhesa.com if you have any questions.
Please note: When you updated the email address, a notification will be also sent. Please click the verification link to complete the process.
4. Please click the verification link to complete the User Registration Process.
5. Now you have access to your Enhesa portal site.

---
EHS Monitor Portal Site

1. Please click the name of the services on the menu bar.
It will link to each of the Contracted Services.
Clicking the House Icon in the top left corner will guide you to this page.
2. Contracted Services
List of all your Contracted Services.
3. Legend
Information on the different icons used on your website.
4. Enhesa Academy
Calendar of upcoming online trainings. Register and join a free training session to learn about our different tools.
5. Training Videos
You can watch past training videos in each language.
6. Individual settings
You can change your language displayed in your portal.
Also, you can edit your individual settings by clicking "Display Name"
Language selection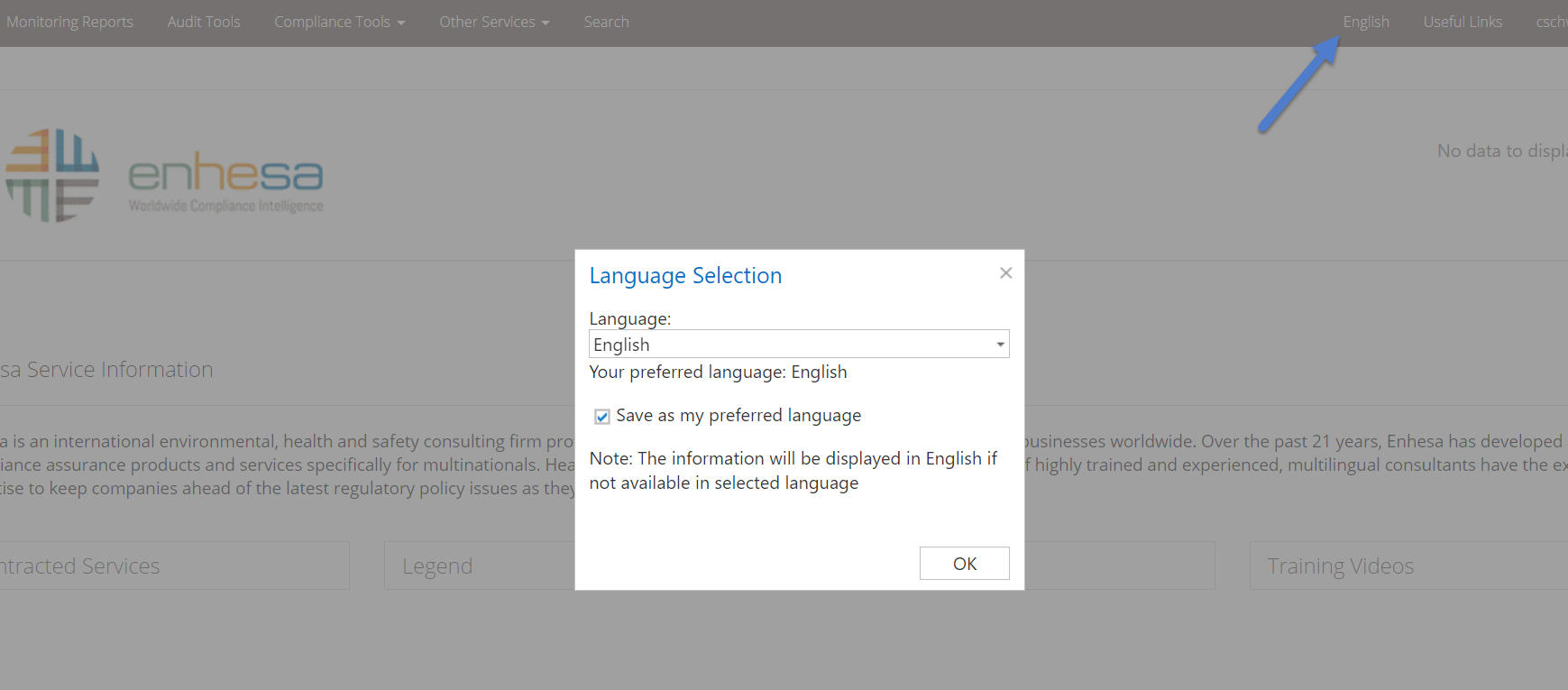 If you would like to change the language shown in the system, please click the language icon shown in the top right corner. The Language Selection window will pop up as shown in the above screenshot.
Please choose your preferred language and click "OK".
If you check the "Save as preferred language", the setting will be saved.
Your portal site will save with your preferred language even after you've logged out.
Please note that this is not the translation function.
This language setting is only for the systematic functions of your Enhesa website portal.
---
User information

| | |
| --- | --- |
| Contact Details | You can edit your contact details such as your email address. |
| My Interests | You can set up your interests so that the monthly email alerts for the Monitoring Report Service will be tailored accordingly. |
| Change Password | This is where you can change your password. |
| Feedback | You can send us feedback about your services to Enhesa. |
| Enhesa Academy | This is a schedule for upcoming, online training sessions. |
| Logout | You can log out of the portal site. |
---
Enhesa Services
Forecaster - Monitoring Reports Service

| | |
| --- | --- |
| Regulations | Report regarding newly adapted regulations |
| Proposals | Report regarding regulatory proposals |
| Other | Other than above reports - important news, jurisdiction, guidance, background news, etc. |
The Monitoring Reports Service will provide you with reports of upcoming regulatory changes on adopted laws, proposals, and policy developments.
The Monitoring Reports are adapted to your contracted jurisdictions.
Please click the number of reports to find the issues that you are interested in viewing.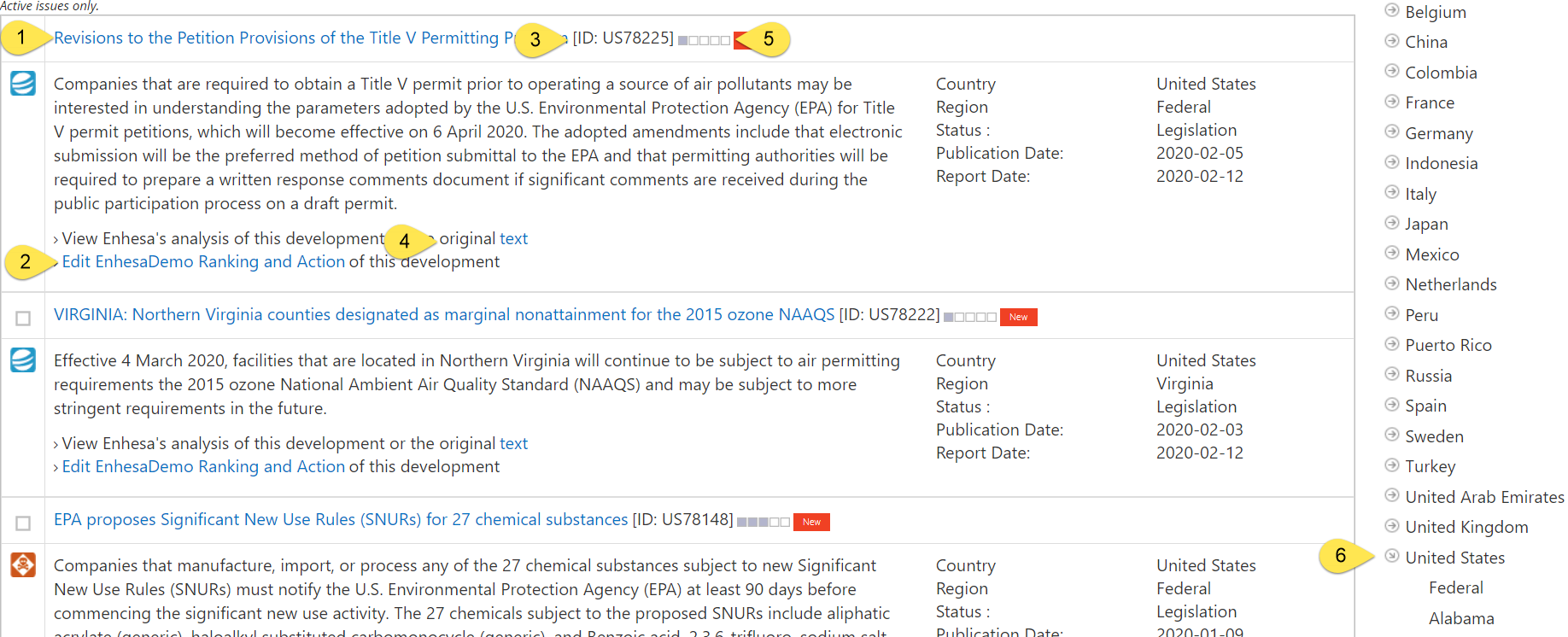 1. Click on the title link to enter the full detailed view of the Monitoring Report
2. Rank this Monitoring Report or assign it to another team member
3. Searchable reference number that you can use when speaking to your Enhesa staff or using your Monitor Search Tool
4. Link to the original text
5. Business Impact Ranking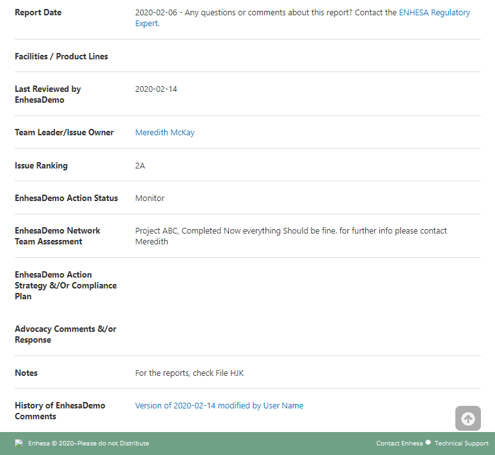 Users can add information to the report by clicking the "Edit" tab. Here they c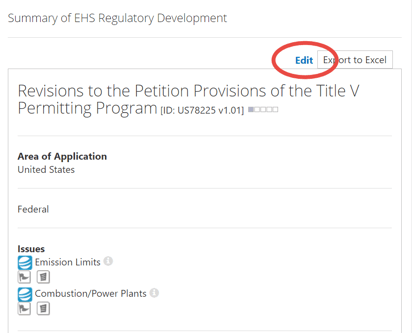 an:​
To Save your information, please click "Save" button on the bottom of the page.
​
---
Audit Tools: ScoreCard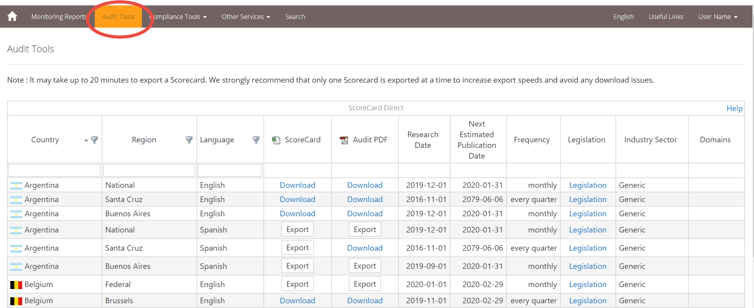 The Audit ScoreCard is an offline audit tool. It's an excel document of regulation requirements used to audit a facility. It includes detailed requirements, guidance to explain each requirement, applicability screening questions, a list of essential documents, and hyperlinks to relevant citations.​
​Click on the "Export" button to begin the download. It can take up to 5 to 20 minutes for a ScoreCard to be exported. Please do this process ONE ScoreCard at a time. ​
Once completed, you will receive an email with a link to download the ScoreCard.

ScoreCards are developed for Microsoft Excel 2007 or a newer version. Upon opening, please enable the Macro and content settings (you will be prompted).
​If you would like to change the language to local language, please click the "Switch" button. If you click "Dual", English and local language will be shown together. Also, a User Instruction guide is prepared in the first sheet for your reference. Remember to save the Scorecard in the Macro enabled workbook format.​
Read the requirement and answer as it applies to your current situation:​

YES

- The site is already compliant with the requirement.

​

NO

– The site is not yet compliant with the requirement.

​

Not Applicable

– The requirement is NOT applicable to the site.

​
​Then, please note the reason of answer in the comment field.​
You have a Guide Note and a link to the citation for your reference.
---
Audit Tools: Compliance Dashboard

The Enhesa Compliance Dashboard is a web-based tool which provides an at-a-glance overview of which sites have done their self-assessment and which sites may cause concern.​
​To access the Compliance Dashboard, you must be granted access rights. If you are authorised, please click "Compliance Tool", and then "Corporate Dashboard" to get started​
We have 2 different kind of rights:​
Full access: You can read and edit the answer.​
Read only access: You can read, but you cannot edit the answer.​
If you want to make updates to your access rights, please contact your Person of Contact (listed on home page on the right-hand side). ​
If you want to change the language shown in the system, please click right top corner. Then select the language you wish to view the content.
---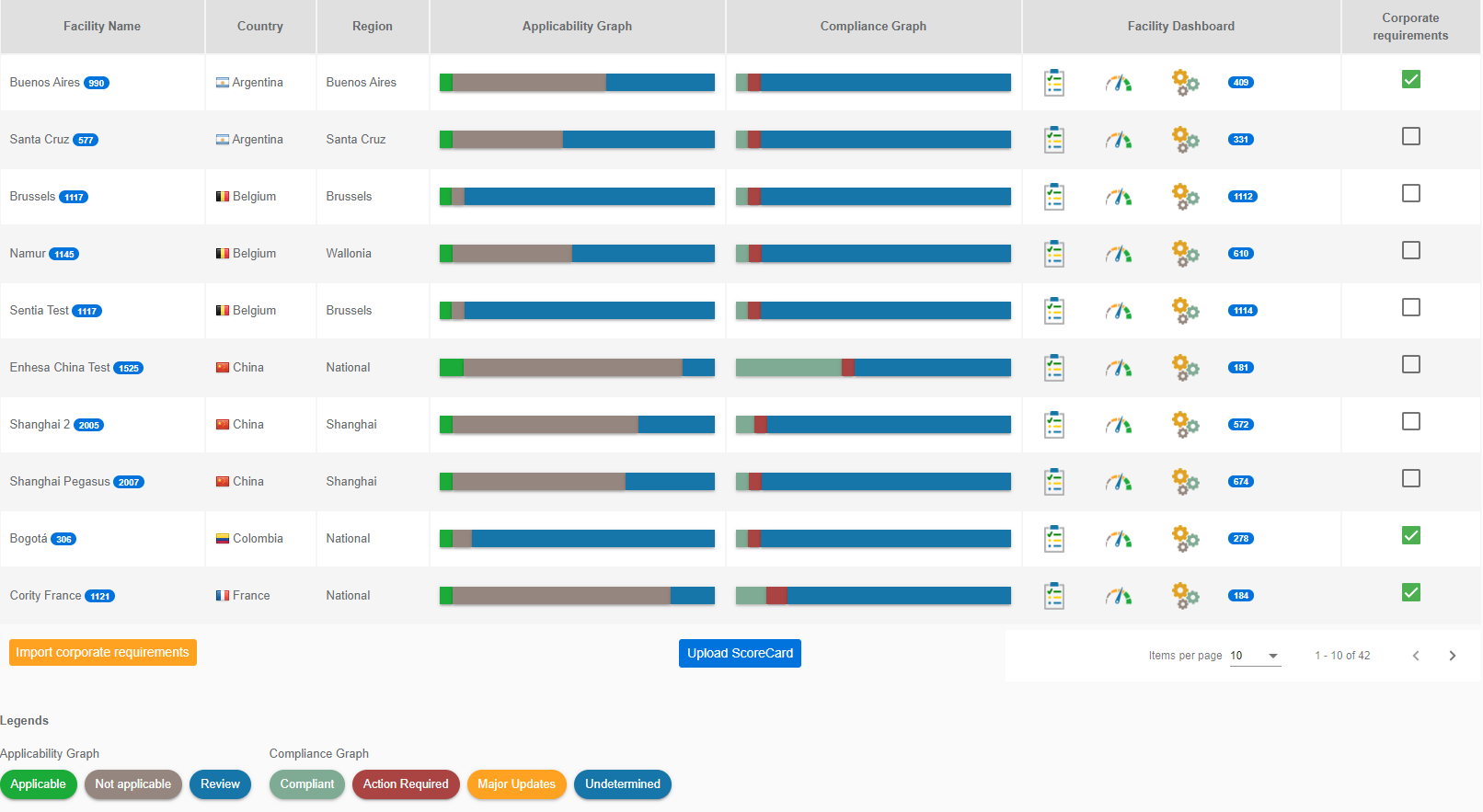 Review the requirements to determine whether they are applicable to your facility.​
​Once the applicability has been determined, then determine whether your facility is currently in compliance with the requirement or if action is required to become compliant. Inputting comments is necessary.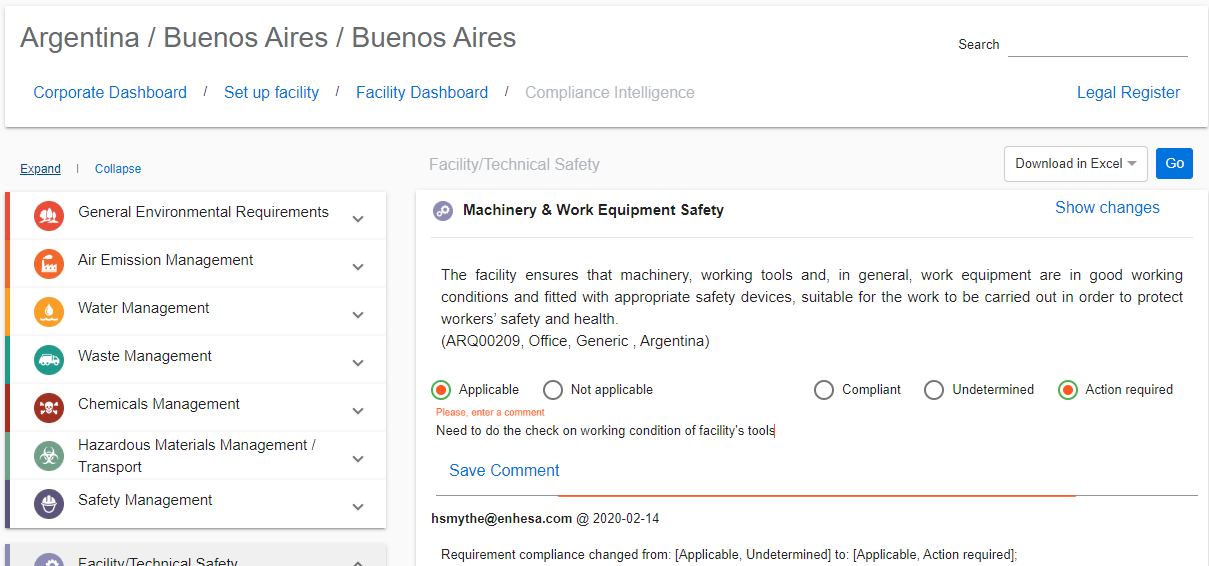 Please click "
Additional Details
" for
further information.
​
​
The comment field can help your team
with information sharing.
​
​
The history can be checked by clicking
"
Previous Actions
".

Your contracted
Enhesa
data will be updated monthly or quarterly.
​
You can view new requirements by checking the "Review" and "Undetermined" sections.​
Updated or changed requirements will be available in the "Major Updates" section for re-validation.​
You can also upload your Scorecard findings by clicking the Upload ScoreCard". Please encode the Scorecard into a CSV file before proceeding with the upload button. ​
---
Other Services
Under the "Other Services" tab, you will find a list of regulations within the country you select.
EHS Foundations
EHS Foundations provides an expansive list of EHS related regulations for each country/region.
You can search information in local language by switching the language.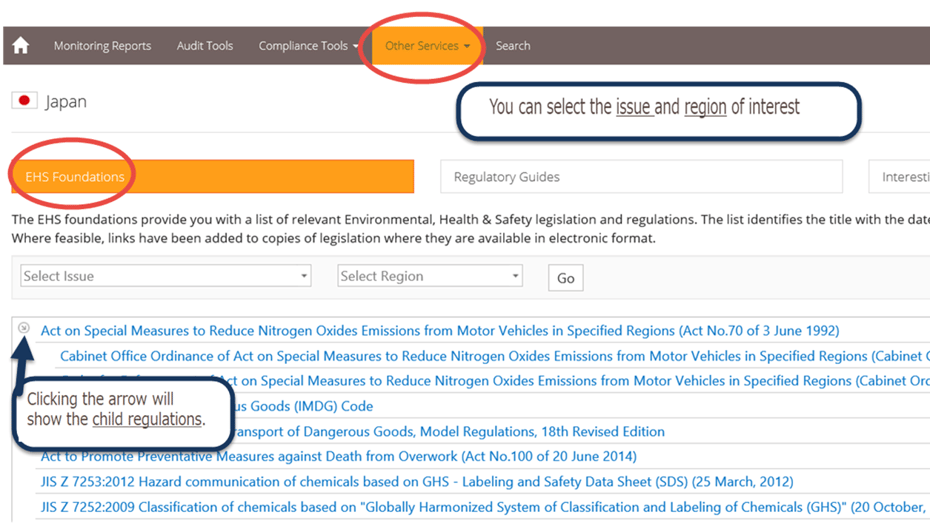 Regulatory Guides
Regulatory Guides give you an overview of the legal and administrative structures, a description of the competent authorities, the key EHS regulations and how the jurisdiction regulates corporate operations.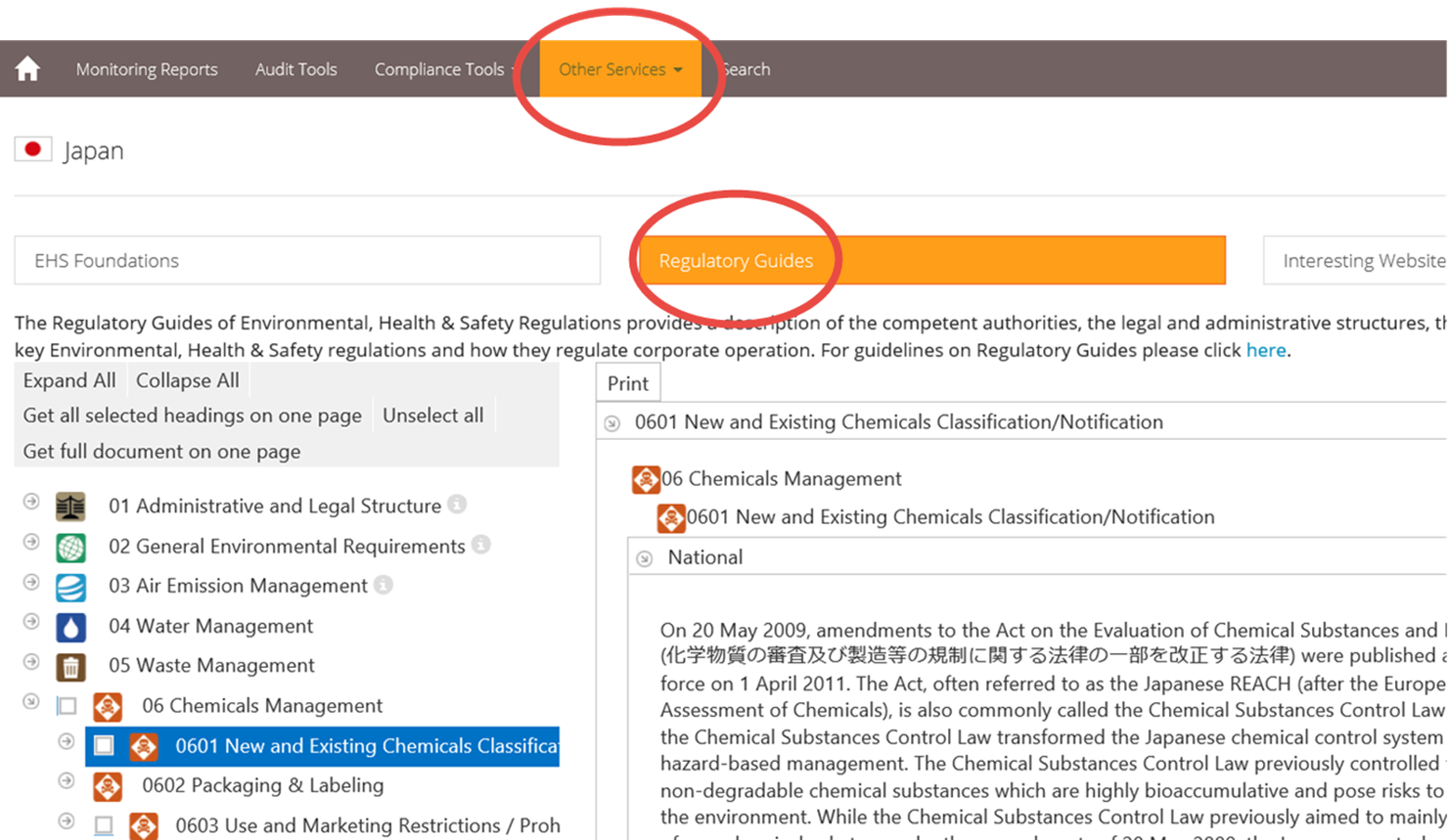 ---
Search Function
You can search for Monitoring Reports or Regulations by using the Search function. Please add * after the keyword and then click Search button.​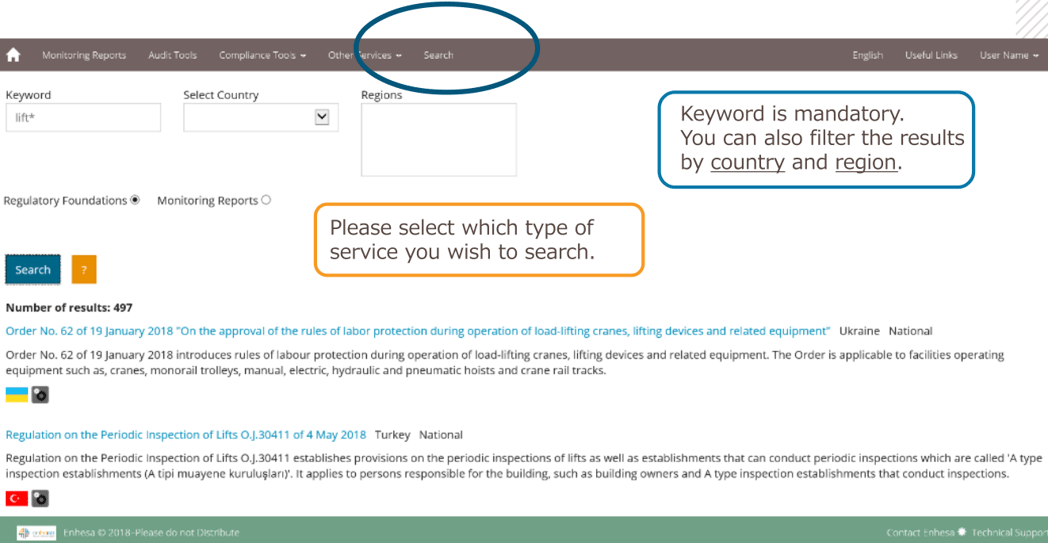 ​Please click the '?' button next to Search button for detailed instructions about how to use the Search function. ​
Enhesa is currently working to improve these service to enable more advanced search functions.
---
Frequency of Updates
Monitoring Reports​
This service will be updated monthly. If you only contract English reports, you can read each report once it is published. If you contract both English and local language, both reports will be published at the end of the month.​
​Please note that reports will not be published if there are not any impacts to your company's EHS activities.​
ScoreCard / Compliance Dashboard​
This service will be updated at least every 3 months. Some countries and regions with high demand will be updated monthly. ​
However, please note that the update of local language Scorecards requires 1 additional month for translation. ​
​Regulatory Guides​
This service will be updated monthly.
---
Additional Training and Support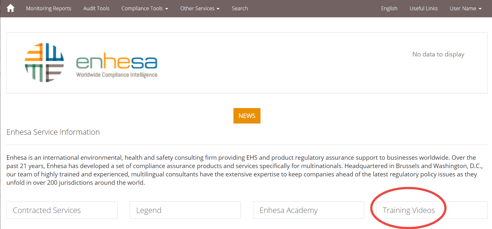 You can watch Training Videos for your reference. ​
​If you have any further questions or concerns, please reach out to our Client Services team at services@enhesa.com​
​Our Client Services team is available to host tailored training sessions for your company with access to the recording. Please contact us if you would like to request to set-up a training.